Map Unavailable
Date/Time
Date(s) - 23/04/2022 - 24/04/2022
10:00 am - 8:00 pm
Categories
City For All – Sarvansathi Pune
A public art exhibition questioning the place of gender in Pune
Dates: 23.04.2022 | 6 pm to 9 pm
24.04.2022 | 10 am to 8 pm
Venue: ITI Road, in front of F-Cube, Pune – 411007
Free Event | Open to all |  Strict Adherence to Covid-19 Protocol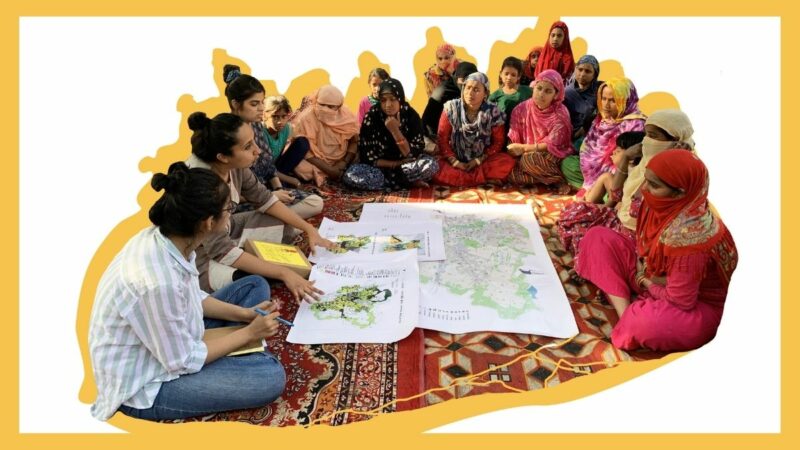 Image: City For All © Social Design Collaborative
City for All? is a public art project questioning the role that gender plays in shaping public spaces and urban experiences in Pune. From chai stalls to parks, buses to toilets – most public spaces across Indian cities, like in the rest of the world – are mostly occupied by fully grown, able-bodied, upper caste, cis-heterosexual men.
Through interactive workshops, City For All? urges Pune's public to reimagine the design and architecture of urban centres from an inclusive perspective. The project, created by Swati Janu of Social Design Collaborative and Chris Blache of Genre et Ville (Gender & Society), seeks to generate awareness through dialogue and art.
A team of architects from Social Design Collaborative and students from PVP College of Architecture will travel across 6 neighborhoods in Pune – Yerwada Slum, Koregaon Park, Mohamadwadi, Dahanukar Colony, Kasba Peth, Mukund Nagar – in a bid to map the relationship that diverse communities share with the city. The maps that emerge from these community interactions will bring out local histories, narratives and patterns on how the public spaces of Pune are used based on factors such as gender, identity, age, abilities as well as economic background, class and caste.
A final exhibition will showcase the maps, alongside, public debates and arts performances in an attempt to give visibility to the following question: Who gets to occupy the public spaces in Pune? Who has the right to leisure in the city? How can we create public spaces where women and transgender people feel welcome, comfortable and secure? How can we increase accessibility to public spaces for people of all ages, gender, sexual preferences, class, caste & ability? 
'Sarvansathi Pune'' will be open for public viewing on ITI Road, Aundh in front of F-Cube from 23 to 24 April 2022, 6 pm onwards.

About The Curators
Swati Janu is an architect and artist who works on issues of right to the city, participatory planning and inclusive public spaces. She is the Founder of the interdisciplinary practice Social Design Collaborative which was recently awarded the Beazley Design of the Year 2020 in Architecture.
Her approach combines community engagement and grassroots activism with policy advocacy. She was nominated as one of the 15 Young Leaders from India in 2018 for her work in humanitarian architecture. She is currently a Domestic Expert on the CITIIS project led by AFD and NIUA.
An urban anthropologist, Chris Blache co-founded Genre et Ville, an organisation working on territories and urban planning via a gender prism in 2012. Genre et Ville is involved in R&D with city councils, government organisations, schools, urban planners, women's rights, LGBTQ rights and equal rights societies.
Chris is also a member of EELV the French Ecologist party. As such she offers expertise on equal rights, urban planning, mobility and societal evolution. She is currently a Global Mentor on the CITIIS project led by AFD and NIUA.
The production is presented in Pune by Alliance Française de Pune, in association with
PVP College of Architecture
,
Centre for Environmental Education
,
Prasanna Desai Architects
,
Mist LGBTQ Foundation
, and
Arzoo
, as a part of
Bonjour India 2022
 – an artistic, cultural, educational, and social initiative put together by the French Cooperation Network in India – including the 
Embassy of France in India
, its cultural department the 
French Institute in India
, the network of 
Alliances Françaises in India
, and the Consulates of France.