Alliance Française de Pune is now a more than 40 years old society whose activities are directed by a governing Body whose members are elected from among its Active and Life members.
Members receive our periodical Newsletter and also get invitations and passes for all the cultural events organized by Alliance Française de Pune.
So if you would like to become a privileged part of the Francophile community in Pune, please contact the administration for more information.
 Membership Form
Download the membership form, and submit the form online to [email protected]: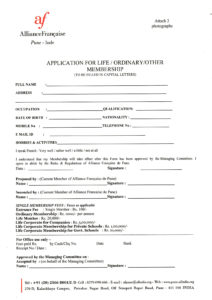 Click here to down the membership form