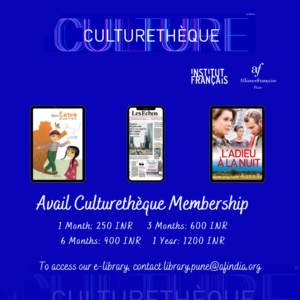 E-LIBRARY, CULTURETHEQUE
Continue your journey with the French Language during the lockdown period & beyond by accessing Culturethèque, e-library.

Discover the French & Francophone culture with various magazines, newspapers, concerts, music, contemporary & classical French literature work, comics & learning materials which can be used right from the beginners' level.

Practise your vocabulary & grammar as per your level of French language.

Have fun, explore & enjoy from the comfort of your home !
Now, avail Culturethèque at the following rates (GST included)
1 month : 250 INR
3 months : 600 INR
6 months : 900 INR
1 year : 1200 INR
For further details, contact [email protected]
Log in www.culturetheque.com to access books, newspapers, magazines online!