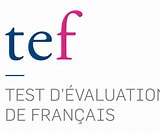 Created in 1998 by the Paris Ile-de-France CCI, the Test d'Evaluation de Français (TEF) is an international benchmark test that measures your level of knowledge and skills in French.
 The TEF is officially recognized by :
– the French Ministry of Education
– the Ministry of Higher Education, Research and Innovation
– the French Ministry of the Interior
– the Department of Immigration, Refugees and Citizenship of Canada (TEF Canada)
– the Quebec Ministry of Immigration, Francisation and Integration (TEFAQ)
– the Swiss State Secretariat for Migration
What are the tests ?
The TEF consists of 5 modular tests:
Oral comprehension (CO)

Written comprehension (CE)

Oral Expression (EO)

Written Expression (EE)

Vocabulary and syntax (LS) 
Which examinations correspond to which test?
The TEF is a modular test. Depending on your objective and the steps you take, you should register for the TEF version that includes the tests you need. Please note that for some versions of the TEF, the tests must be taken during the same session.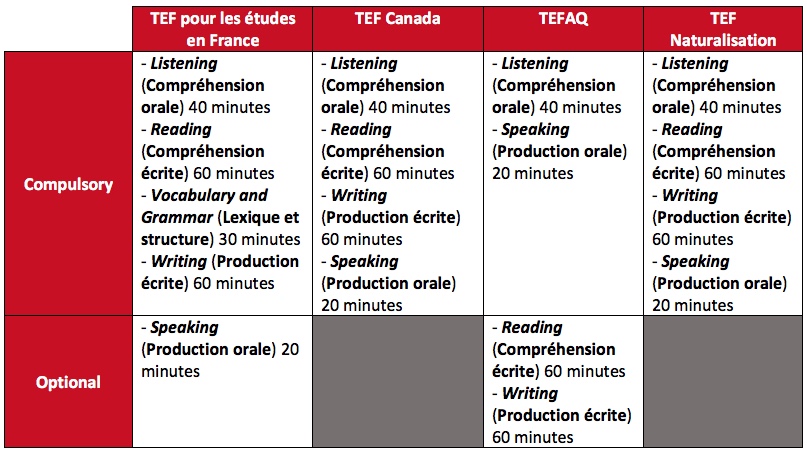 You can take the TEF to certify your level of French. It is also recognized to:
For more information on the different versions available, please refer to the website of the Chamber of Commerce and Industry of Paris Ile-de-France.
Please note that at present, the Alliance Française Pune offers only the TEF CANADA.
IMPORTANT : Please note that e-TEF Certificates are NOT a diploma. They are ONLY valid for 2 years from the date of declaration of the results.
How is the TEF evaluated?
The tests are evaluated using a scale of 7 levels, from level 0 (most basic skills) to level 6 (good skills).
This scale refers to the 6 levels (A1 to C2) of the Common European Framework of Reference for Languages (CEFR) of the Council of Europe and the 12 Canadian 2313 Language Benchmarks (CLB) / from Quebec (EQNCF).
The written comprehension, oral comprehension and vocabulary and syntax tests are in the form of multiple-choice questionnaires.

The written expression test consists in writing two texts related to your everyday life. It is evaluated by two independent, trained and experienced proof-readers.

The oral expression test consists of two role-plays corresponding to real-life situations. It is evaluated by two independent examiners: the test facilitator and a second evaluator who will evaluate based on the recording of the test.
For correspondence of TEF-NCLC-CECR scores after 1st October 2019 : click here 
Click here to know more about TEF CANADA Exam sessions 2023
Click here to know more about Rules & Regulations + Registration Procedure