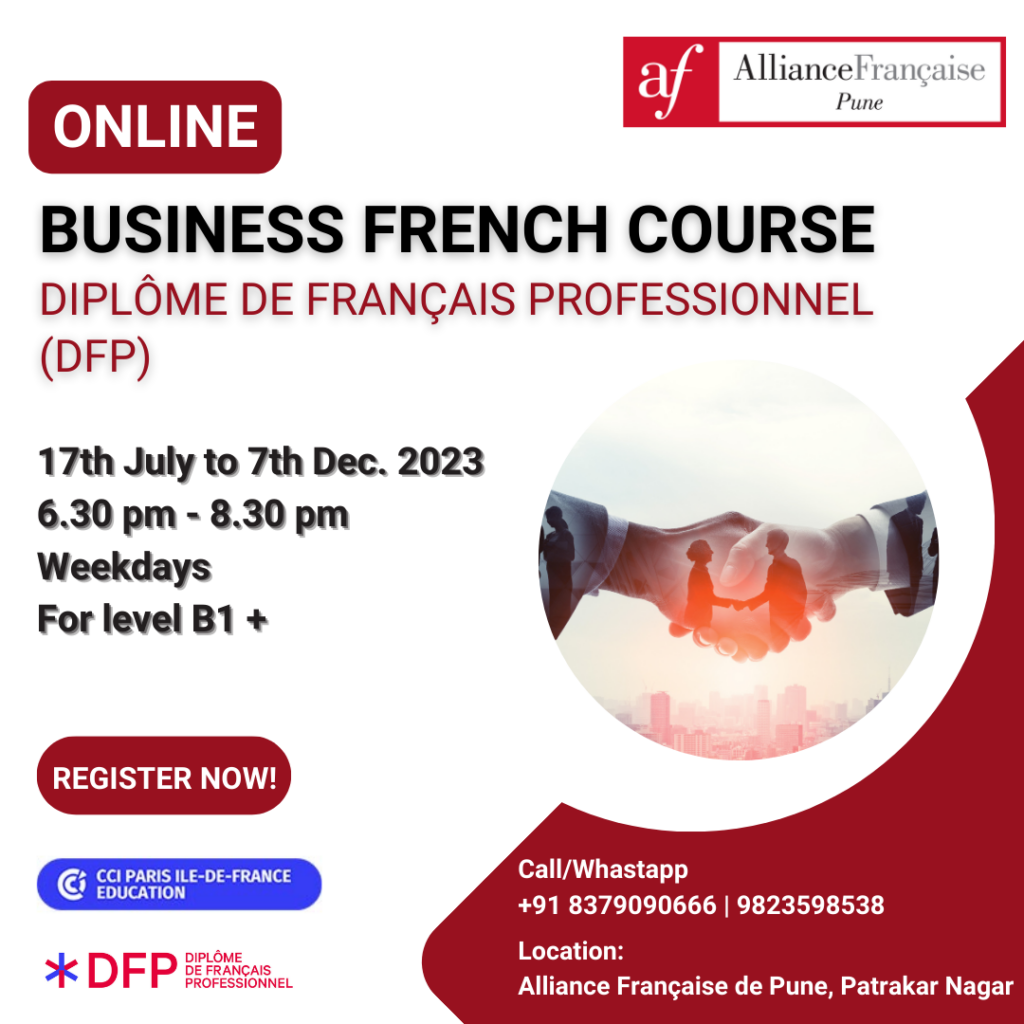 DIPLOMAS IN FRENCH FOR PROFESSIONS 
ADD THIS DIPLOMA ON YOUR CV TO ACCESS OR EVOLVE IN A JOB MARKET
What are Diplômes de français professionnel | Business French Diplomas ?
The Diplômes de français professionnel | Business French Diplomas are certifications, designed and offered by the Paris Ile-de-France Chamber of Commerce and Industry,aimed at certifying your French oral and written communication skills in the professional context. This business-oriented diploma measures the candidate's level in written comprehension, understanding of the business world, oral comprehension, writing, and speaking.
About DFP Business (Affaires ) 
The Alliance Française de Pune conducts DFP Business (Affaires ) B2 courses that enables you to prepare for the  DFP Affaires B2 exams. At this level, candidates are able to carry out routine professional tasks of an interpersonal, administrative, or commercial nature.Preparing for these diplomas will enable you to reach the level of competency required by your future employers
The courses are adapted to the modern business world & are built on the day-to-day activities specific to your professional domain. Learning to draft commercial correspondences in French, preparing short summaries in oral & writing of texts consisting economic terminologies/jargons which explains well your understanding in economic/commercial & finance field. 
Who should do DFP Business (Affaires): 
The French Business Diploma is meant for any student, intern, or professional (entrepreneur, project/product manager, engineer, consultant, etc.) already working with French speakers, or seeking to work in French speaking organisations or work in a Francophone country.
Why should you do DFP Affaires (Business): 
To improve your chances of getting a job related to the French language,

To obtain international certification in Business French 

to enhance your ability to work in  local & international French speaking communities.

to develop new  relationships  or  strengthen existing ones with French speaking customers & colleagues.

to develop business activities in francophone countries..

to gain new responsibilities in your professional sphere.

to integrate better in a global & intercultural work environment.

to seek new business opportunities in a global environment.
Go to Monsoon 2023 & click on DFP B2 Affaires tab