Map Unavailable
Date/Time
Date(s) - 31/03/2022
7:00 pm - 8:30 pm
Categories
S.Thala: An Indian Suite
A moment of Poetry, marrying Dance, French Literature and Indian Gestures
Date: Thursday, 31 January, 2022
Time:  7 pm – 8:00 pm
Venue: The Box, Nal Stop, Pune-411038
Language:  English, French, and Malayalam
Entry only upon presentation of Tickets | Tickets available for purchase on ticket.khidakee.com/sthala
Strict Adherence to Covid-19 Protocol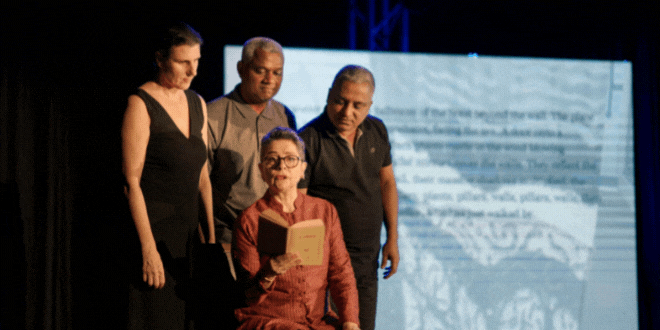 Image: S.Thala © Compagnie Annette Leday/Keli
Witness a dance performance inspired by Marguerite Duras' writing!
Directed by Annette Leday of the Annette Leday/ Keli Company, S.Thala, (स्थल) a Sanskrit word meaning: a place, a spot, a room. is a dance and theatre production inspired by Marguerite Duras' 'India Song' – a multimedia composition which fictionalized Asian colonialism.
By revisiting Duras' fantasised India, the dancers propose a choreographic interpretation of her literary universe. The choreography will evoke situations and characters representative of Duras' fictional universe, without replicating the complex narratives of her texts.
About the Production
The artistic project of the Annette Leday/Keli Company is to orient and evolve rare traditional performance techniques towards contemporary creation. The company has established a constant dialogue between artists from India and from France and has developed an original process of exchanges since its creation in the nineteen-eighties.
Alliance Française de Trivandrum
,
French Institute in India
,
Paris City Hall
, and
Arta Cartoucherie
.
The production is presented in Pune by Alliance Française de Pune, in association with The Box, as a part of Bonjour India 2022 – an artistic, cultural, educational, and social initiative put together by the French Cooperation Network in India – including the Embassy of France in India, its cultural department the French Institute in India, the network of Alliances Françaises in India, and the Consulates of France.