Whether a student at the Alliance or not, you could become a member of our médiathèque. All the current enrolled students & members of Alliance Française Pune become members of the library by default.
All you need to do is bring us 2 recent stamp-sized photographs, an ID proof, Pune address proof photocopy and a cheque/cash/card for the payment.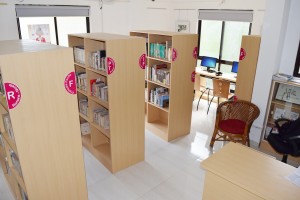 Library Membership Fees – Both Physical & Digital, Culturetheque (GST included)  :
1 year : ₹ 2500
6 months : ₹ 1800
3 months : ₹ 1200
1 month : ₹ 500
Digital Library Membership Fees, Culturethèque (GST included)
1 year : ₹ 1200
6 months : ₹ 600
3 months : ₹ 900
1 month : ₹ 250
Opening hours:
Tuesday to Friday: 9:30 am – 5:30pm
Saturday: 10 am – 6 pm
Sunday & Monday closed
For more information:
or call us @ 020 25 67 65 09
SERVICES
Borrowing
Members may borrow 2 novels, 2magazines and 2 Junior books or comics for a period of 2 weeks. Certain books are only for reference and consultation within the library and will not be issued to members. Books must be returned on time. No new books will be issued to members who have not returned their old ones and access to the library and admissions will be denied.
Audiovisual consultation
Our computers can be used to listen to audio CDs or view DVDs.
Culturetheque-
In addition to our library, students and members are also registered for our online library-www.culturetheque.com. Culturethèque is free for the members of our multimedia library and can be accessed anywhere, anytime provided that you have an Internet connection. You will receive your ID and password by email from our library.
Video Games
Students can also improve their French language skills by playing PS4 video games in French.
TV5 and France 24
Cordless headphones are available in the library and are members may watch TV 5 and France 24.
Free internet access
A restricted number of websites in French or about French language can be freely accessed.
MonAlliance
Currently enrolled students may access our new digital online learning platform, "MonAlliance" on the library computers and complete their tutorial sessions by booking a slot in advance.
Cinéclub, Workshops, Society games and Animations
The AF Médiathèque in collaboration with the Cultural Department of the AF Pune regularly organizes projections of films, games, workshops and several other events to enable its members to discover more and more of the French language and culture.
MEMBERSHIP
All Alliance FrançaisePune students, currently enrolled in a course at the AF Pune are members of the Médiathèque for the duration of their course.
External Library Membership is open to all residents of Pune with an interest in the French language. Proof of residence in Pune must be provided while seeking membership.
Individuals may apply for membership to the AF Médiathèque by filling in a form at the Front Desk and providing the following a photocopy of a valid and government recognized photo ID and proof of address. The application will then be forwarded to the Management for approval. Once such approval is obtained, membership fees will have to be paid following which a library card will be issued.
Granting of library membership is entirely at the discretion of the management of Alliance Française. The Management of the AF Pune reserves the right to reject any membership application without assigning any reason for the same.
Outstation students and members of the AFP also need to provide a proof of their permanent address.
Foreigners who are permanent residents of Pune should also provide a domicile resident proof provided by the FRRO, along with a photocopy of the address page of their passport.
External membership is valid for three months, six months and one year as per the member's choice and is renewable.
Library fees paid are neither transferable nor refundable.
Signature of the membership form is an undertaking by the member that he or she will abide by the library's rules and regulations.
RULES AND REGULATIONS
Only individuals holding a valid library membership may avail of services offered by the AF Pune Médiathèque. Library members need to present their membership card to borrow documents from the library.
Silence is to be observed at all times in the library and mobile phones are to be switched off or placed on silent mode.
Smoking, drinking, eating, use of mobile phones, personal audio equipment, cameras is strictly prohibited in the Library.
The library is meant for reading, working, watching or listening to documents in the French language. Members using the Library premises for any other purpose will be asked to leave.
The library staff is authorized to evict any member who does not abide by the rules of the AF Médiathèque or who misbehaves with staff or members in any way.
Members are expected to take care of their personal belongings. The AF Pune will not be held responsible for the loss of any item on its premises.
Internet access is provided only for activities in the French language and shall not be used to consult emails or for general surfing in other languages.
Members must reserve slots in advance for the use of the computers for online modules, PS4 games or films. Priority will be given to members with reservations.
Books borrowed by members must be handled with care and returned on time.  No new books will be issued to members if books have not been returned and access to the Library will be denied till they return all their books and clear all dues.
Members will have to reimburse the cost of any book damaged or lost by them. Students who have not returned library books or settled amounts due for the samewill not be granted admission into higher levels.
Copyright- documents in the library are subject to copyright. Photocopying of a maximum of 10% is allowed, but not of a complete document. Copying any other documents (CD, DVD…) is strictly prohibited.
A lost library card must be immediately reported to the library. Members will be held responsible for any document issued with a lost card should they fail to report the same.
Any change of address and/or change in contact details should be immediately notified to the librarian.