Welcome to the newly refurbished Alliance Française Médiathèque!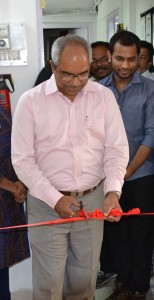 The French Media Library at Alliance Française de Pune has been refurbished with refreshing new sections – a more welcoming reception, newly furnished cabinets with a wider collection of French documents, and new exhibitions of paintings and photos by prominent artists in Pune and from France!
The French Media Library was inaugurated by the President of Alliance Française Pune, Advocate Jayant Shaligram, in the presence of the Director, Mrs. Anne-Marie Thuillier and renowned artist Mr. Milind Mulick whose water color paintings were exhibited during the inauguration.
Our library is a must-visit place if you are looking for getting in touch with French and Francophone culture! Here, you will find a wide range of DVDs, CDs and magazines, from reference documents to contemporary ones! For students of French, a special section to improve the language and novels in easy French, along with a wide variety of reference books for DELF/DALF, are waiting for you! You can now watch "TV5" at the mediathèque !!
The médiathèque also offers cultural activities, specially designed for the ones willing to practice their French! We organize game sessions, exhibitions, lectures, chats with French natives… Don't hesitate to visit us!
Opening Times:
Tuesday to Friday : 9:30 am to 5:30 pm
Saturday : 10 am to 6 pm
Closed on Mondays & Sundays