English language Assistants in France programme provides a unique opportunity to discover the French language and culture first hand. By living and working in France, English language assistants improve their knowledge of the French language and culture and they share their English language skills by teaching at various positions in schools, colleges or training institutions.
Teaching English in France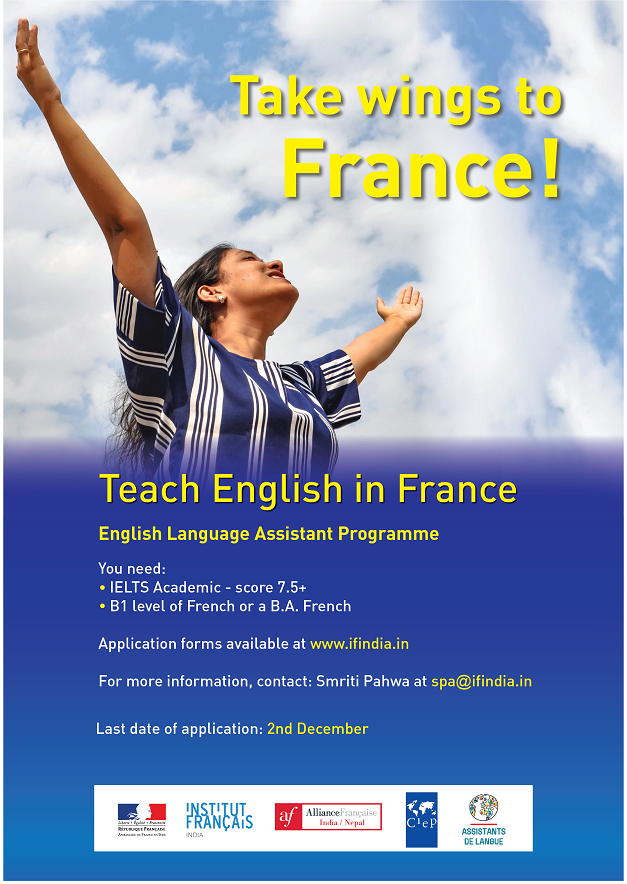 Programme "English Language Assistants in France"  2019-20
You have a good command of English and French. You can:
– Teach English in France.
– Attend classes in French universities.
– Discover France.
You need:
– IELTS (Academic – score 7.5+)
– B1 level of French or a B.A. French
This programme of the Ministry of Education in France is managed, internationally and in India, by the International Centre for Pedagogical Studies (CIEP) and the Embassy of France in India. As part of this programme, about 100 Indian students are recruited as English language assistants in French public schools. The programme allows these Alliance française or Indian university students to experience French language and culture, while providing their schools with their language skills and their rich culture.
The English Language Indian Assistants' stay in France covers a period of seven months, from 1 October to 30 April of the next year. Appointed to secondary and primary schools, they provide support to English-language teachers.
For more information contact Smriti PAHWA at [email protected] or visit http://www.ifindia.in/teaching-english-france
Descriptive of the programme: click here to download
Watch an interview of an English Assistant