Quelle Trompette pour Ethan? 
Date: Monday, 12 July | Time: 4 pm | Venue: Zoom

On the occasion of the National Day of France (fête nationale française), Alliance Française de Pune invites its students to an interactive music show by Etienne Sibille!
Open to former and currents students of Alliance Française de Pune only | Ages 9 to 14 | Free registration | Participation by registration only
Register here: https://forms.gle/s9GjPFFrTJT8PGqs9
Note:
-The session will be conducted in English and French
-Parents are welcome to attend the session along with their child
-As a part of the online show, participants will be invited to create a musical instrument using material available at home. It is MANDATORY for each student to have certain items at their disposal in order to create the instrument and hence participate in the session. 
Please refer to the FULL LIST of material required below: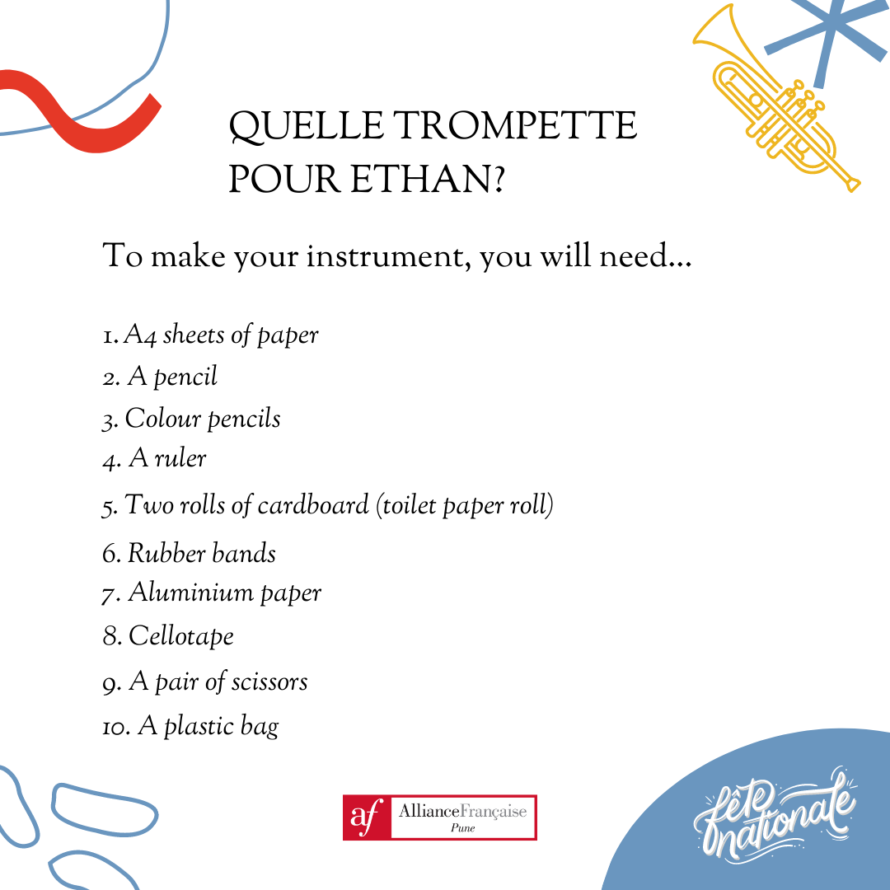 Quelle Trompette pour Ethan? (Synopsis)
Ethan is a little boy who finds himself amazed on the national holiday by the discovery of music. His curiosity will lead him to discover various wind instruments such as the kazoo trumpet!
About Etienne Sibille:
Based in Amnéville-Les-thermes, France, Etienne Sibille is a musician, storyteller and performer. In 2021, he will celebrate 24 years of performing musical shows for children. The originality of his repertoire is that it features musical instruments from all over the world. Some such as the didgeridoo are unusual, rare and spectacular!
He was offered the first prize by the National Conservatory of the region of Metz, for his level of proficiency in trombone.
For further queries, please write to 
[email protected]
.