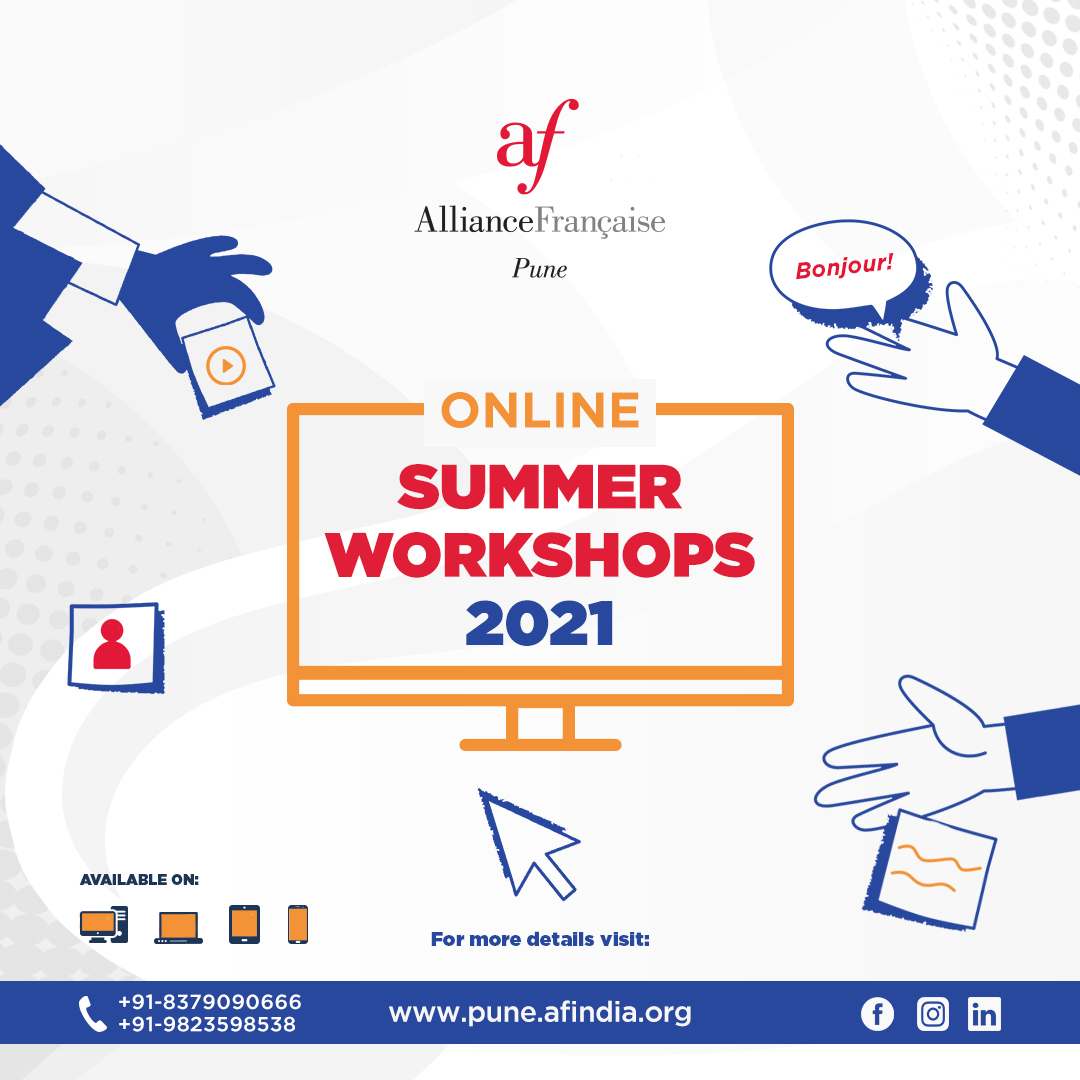 All workshops will be held online.
Boîtes à culture : Culture workshops which will introduce you to French cinema, literature and history 

Workshop
Level
Dates
Days
Timings
Price
Description
Atelier Bande Dessinée
A2+
17th to 21st May
M, W, F
11am to 12noon
900/-
Discover 3 different comics strips in French !
Atelier Cinéma
A2+
24th to 28th May
M, Tu, Th, F
2 to 3pm
1200/-
Enjoy discussing  french language films available on free streaming platforms
Atelier Litérature
B1+
31st May to 4th June
M, W, F
2 to 3pm
900/-
Escape into the magical world of literature. Discover francophone authors both classic and contemporary through extracts of their best work.
Voyages virtuels
A2+
14th to 18th June
M, W, F
11am to 12noon
900/-
Visit three regions in France or three francophone countries through an interactive fun workshop.
Atelier Histoire
A2+
21st  to 25th June
M, W, F
11am to 12noon
900/-
Learn about events that have shaped the history of France and their impact on the country and it's people and culture.
Point grammaire : Revise grammar concepts, clear your doubts, practice and apply the same while speaking or writing in French

Workshop
Level
Dates
Days
Timings
Price
Description
Le présent
A1
24th & 25th May
M,T
12 to 1.30pm
900/-
Revision of the basic grammar topic with it's rules, exceptions and use, followed by exercises and activities to apply the same to oral and written expression.
Le passé composé
A1
26th & 27th May
W, Th
12 to 1.30pm
900/-
Le passé composé et l'imparfait
A1
28th & 31st May
F, M
12 to 1.30pm
900/-
Les articles (définis, indéfinis, contractés et partitifs)
A1
1st & 2nd June
Tu, W
12 to 1.30pm
900/-
Le futur et l'impératif
A1
3rd & 4th June
Th, F
12 to 1.30pm
900/-
Les pronoms personnels
A1
7th & 8th June
M, Tu
12 to 1.30pm
900/-
Le passé composé, l'imparfait et le plus que parfait
A2
24th & 25th May
M,T
2 to 3.30pm
900/-
Revision of the basic grammar topic with it's rules, exceptions and use, followed by exercises and activities to apply the same to oral and written expression.
L'impératif et le conditionnel
A2
26th & 27th May
W, Th
2 to 3.30pm
900/-
Le subjonctif (obligation, but, sentiments)
A2
28th & 31st May
F, M
2 to 3.30pm
900/-
Les doubles pronoms
A2
1st & 2nd June
Tu, W
2 to 3.30pm
900/-
Les pronoms relatifs simples
A2
3rd & 4th June
Th, F
2 to 3.30pm
900/-
Le passif
A2
7th & 8th June
M, Tu
2 to 3.30pm
900/-
Le gérondif et le participe présent
A2
9th & 10th June
W, Th
2 to 3.30pm
900/-
Atelier Conversation
B1+
17th to 21st May
M, W, F
11am to 12noon
900/-
Conversation workshops on Current events. Have a great time discussing events, expressing your opinions and exchanging ideas with other participants
B1+
7th to 14th June
M,W,F
18.30 to 19.30
900/-
Les pronoms relatifs simples et composés
B1+
14th & 15th June
M,T
10.30am to 12 noon.
900/-
Revision of the basic grammar topic with it's rules, exceptions and use, followed by exercises and activities to apply the same to oral and written expression.
L'expression du but
B1+
16th & 17th June
W, Th
10.30am to 12 noon.
900/-
L'expression de la cause et de la conséquence
B1+
18th & 21st June
F, M
10.30am to 12 noon.
900/-
Les indéfinis
B1+
22nd & 23rd June
Tu, W
10.30am to 12 noon.
900/-
Le conditionnel présent, le conditionnel passé et l'hypothèse
B1+
24th & 25th June
Th, F
10.30am to 12 noon.
900/-
L'expression de l'opposition et la concession
B1+
28th & 29th June
M, Tu
10.30am to 12 noon.
900/-
Le subjonctif ou l'indicatif ?
B1+
30th June & 1st July
W, Th
10.30am to 12 noon.
900/-
Les temps du passé
B1+
2nd & 5th July
F, M
10.30am to 12 noon.
900/-
Other Workshops : Improve your pronunciation, your conversation & writing with some fun activities.

Workshop
Level
Dates
Days
Timings
Price
Description
Atelier Phonétique
A1+
17th to 28thMay
M, Tu, W, Th, F
12.30 to 1.30pm
2750/-
Improve your pronunciations, intonation and French accent. Speak french like the French !and int
Atelier Ecriture créative
A2+
21st to 25th June
M, W, F
11am to 12h30pm
1350/-
Creative writing workshops in French. Have fun with words, create different types of texts through various techniques and tools.
Atelier Conversation
B1+
17th to 21st May
M, W, F
11am to 12noon
900/-
Conversation workshops on Current events. Have a great time discussing events, expressing your opinions and exchanging ideas with other participants
B1+
7th to 14th June
M,W,F
18.30 to 19.30
900/-