December 2021 – March 2022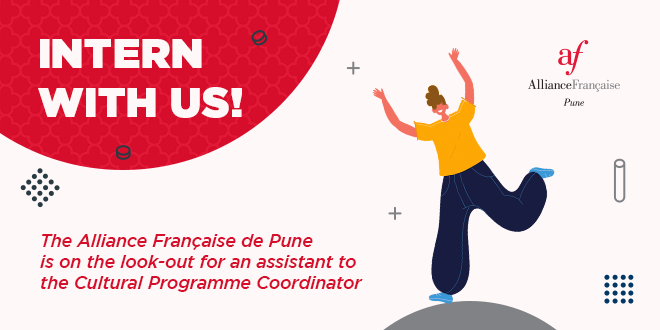 Bonjour India 2022 is coming!
From January 2022 to March 2022, several onsite cultural events and arts projects will be organized under the ambit of Bonjour India, an Indo-French arts festival, traversing over 30 cities across 20 states & union territories in India. Here's your chance to take part in one of the biggest and most ambitious initiatives of Indo-French cooperation! Intern with the Alliance Française de Pune!
About the Alliance Française de Pune:
The Alliance Française de Pune is an Indian association belonging to a worldwide network. Our primary mission is to teach the French language and facilitate the creation and dissemination of Indo-French cultural projects.
The cultural section of the Alliance Française de Pune is looking for an Assistant to the Cultural Coordinator. The assistant will be the first in line to witness and participate in the arts events to be held in Pune during Bonjour India.
Main Responsibilities:
Assisting in the planning and execution of events
Liaising with partners and vendors
Taking photographs and videos for social media
Collecting data and maintaining the database (data record)
Drafting Event reports
Required Skills:
Our ideal candidate
has strong interpersonal, communication and time-management skills
is fluent in English, Marathi and Hindi
has completed a French course of B1 level
has prior knowledge in digital marketing, MS office (Word, PowerPoint, Excel), and Canva
is passionate about the arts, culture and heritage
While prior experience in event management is not compulsory, it will be an added advantage to your profile.
Conditions:
The four-month internship will start from Monday, 6 December, 2021. Work Schedule: Monday to Friday (9.30 am – 5.30 pm). Note: The date of commencement of the internship has been shifted to Monday, 13 December, 2021. 
Availability on evenings and weekends will be required January onwards as per the festival schedule. You will be requested to work remotely on some days and at the office on others.
What's in it for you?
We deliver a certificate and a letter of Recommendation that you can then add to your CV and show as reference
We will offer you a monthly stipend
You will gain new skills and improve your communication skills in French
You will meet interesting people such as artists, musicians and dancers
You will discover a culture different from yours while having fun and sharing your own
It's an opportunity to meet like-minded people, make new friends and build your professional network
Deadline to apply: 29 November, 2021
Anybody can apply by uploading their CV and cover letter on this GOOGLE FORM. Note: We are no longer accepting applications for the internship.
The cover letter should be no longer than a single A4 sized-page and can be written in either English or French. Only those candidates who have been shortlisted will be called in for an interview.
For further queries on the internship programme, please write to [email protected].