Map Unavailable
Date/Time
Date(s) - 10/02/2023
4:00 pm - 6:00 pm
Categories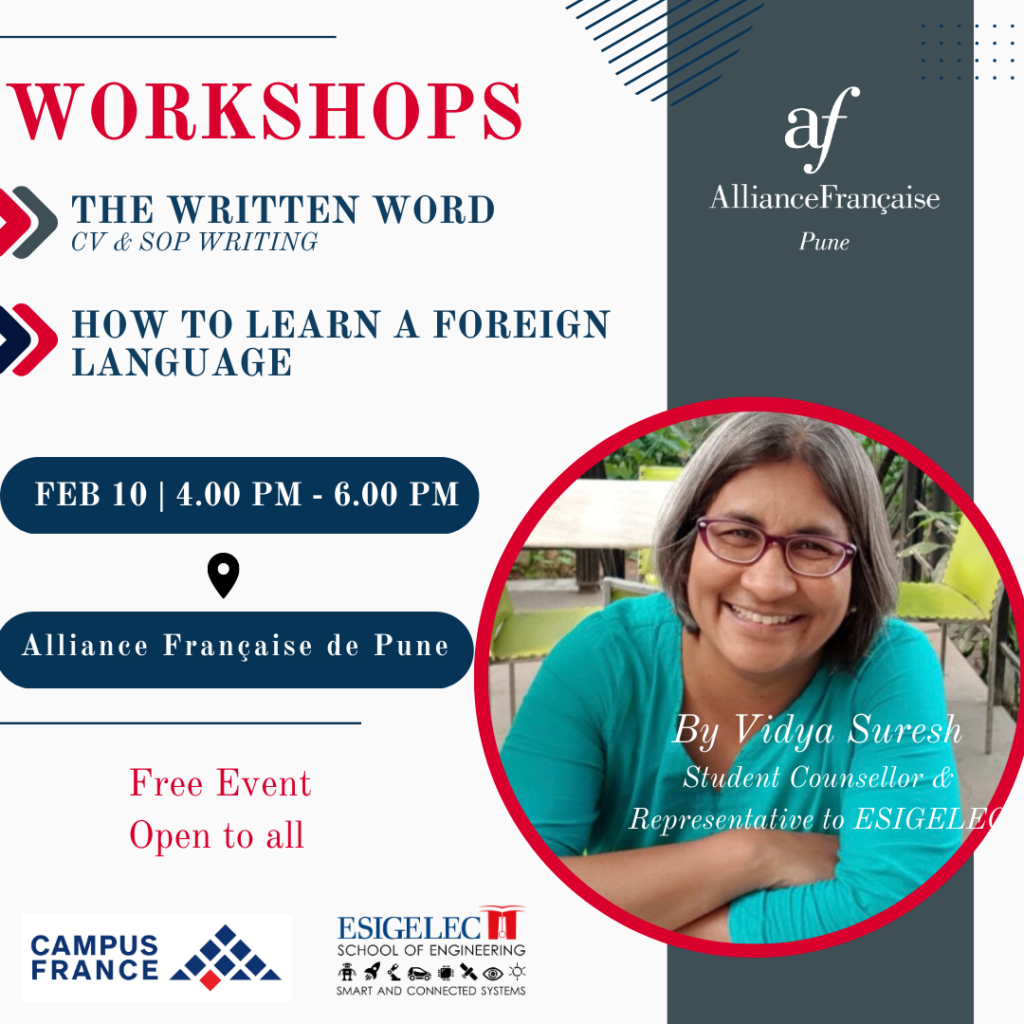 The Alliance Française de Pune in collaboration with Campus France India & ESIGELEC School of Engineering shall organize two workshops on Friday, 10th Feb. 2022 from 4.00 pm to 6.00 pm at Alliance Française de Pune.
Register here
Free Event | Open to All
About Vidya Suresh – our speaker
With over 30 years of teaching experience at the Alliance Française de Bangalore and more than 20 years of experience in student counseling, Vidya Suresh currently handles the South Asia Office of ESIGELEC, a Premier French Graduate School of Engineering. She has also served for eight years as Education Adviser, Campus France, Bangalore.
Having met and interacted with a large number of students over the years, she came across many of them who found it difficult to get started with writing their CV and Statement of Purpose. It was with the intention of assisting them that she organized the first workshop, The Written Word, at the Alliance Française de Bangalore. Almost a hundred such sessions have been conducted in more than 20 cities across the country, including a few IITs, IIMs and NITs.
As a language teacher, she observed that most learners dropped out approximately after the first twenty hours of embarking on the journey. She therefore put together the session HOW TO LEARN A FOREING LANGUAGE to help such learners get back on track and more importantly, to enjoy the fascinating experience of learning a language that goes way beyond words.
In 2017, she was awarded the Knight of the Order of Academic Palms by the Government of France, for her work in the field of promotion of French Higher Education in India.
About the content covered in the workshop -THE WRITTEN WORD
(A workshop to help students write a compelling CV and Statement of Purpose)
Objective: To provide students with tips on how to write an effective CV (Résumé) and Statement of Purpose
Who we are reaching out to: Students who do not enjoy writing!
Structure:
 The importance of a well-drafted CV and Statement of purpose
 CV formats
 CV content
 Enhancing your profile without compromising the truth
 Writing a CV for Europe
 Dos and don'ts
 What is a Statement of Purpose?
 SOP content
 Language tools to fine-tune the document
 Dos and don'ts
 Interactive exercises to get started
About the content covered in the workshop -HOW TO LEARN A FOREIGN LANGUAGE
(A workshop to put you back on track if you are a beginner and are feeling overwhelmed at the prospect of progressing in your language learning journey)
Objective: to demystify language learning at the beginner level. It may well be useful for intermediate and advanced level learners too!
Who are we reaching out to? Language learners with about twenty hours of learning behind them, who need to be reassured that it's not so difficult after all! Learners at the intermediate and advanced levels are most welcome too!
Structure:
– The all-important question of "How" as opposed to the easier questions like why, when
and where
– Some dos, some don'ts
– Technology – good or bad for a language learner?
– Listening, Reading, Writing, Speaking – all four skills simultaneously