Map Unavailable
Date/Time
Date(s) - 27/11/2021
All Day
Categories
Défi Inter Alliances 
This year, the network of Alliance Françaises in India is co-hosting a contest in which students of Alliance Française from around the world will compete with each other during an ONLINE QUIZ on FRENCH LANGUAGE & CULTURE.
Over 25 countries will participate in the very first edition of DEFI INTER ALLIANCES that is being held from August to November 2021. Participants of this contest stand the chance to win exciting prizes including a two-week trip to France!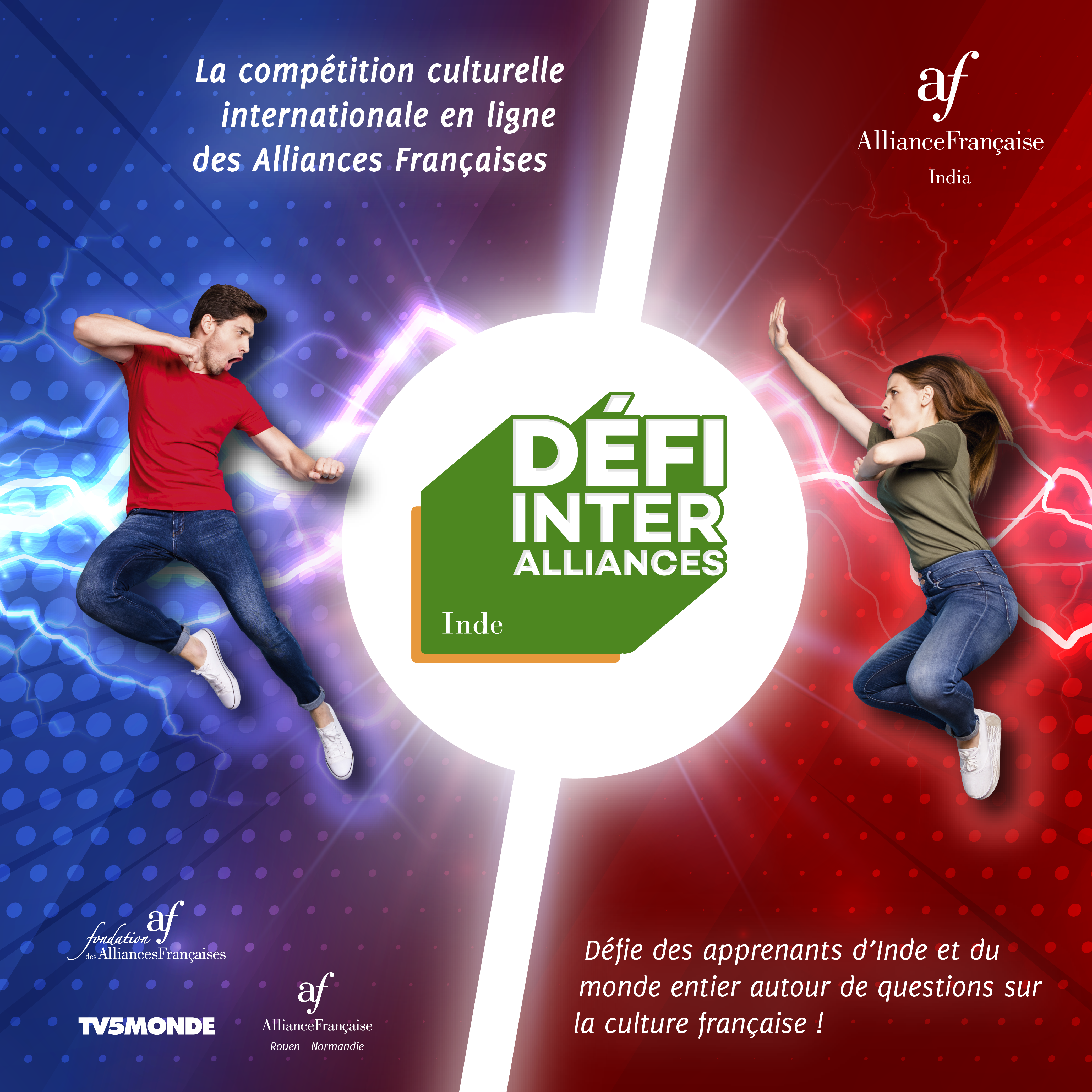 Important Dates
The contest will have THREE phases. Each phase will have students face-off during an online QUIZ held via KAHOOT and ZOOM.
PHASE 1 : Local Round |Friday, 6 August 2021, 7 PM
Students from each AF in India will participate in this round. Two winners from each AF in India will automatically qualify to participate in the National Round.
PHASE 2: National Round | Friday, 1 October 2021, 7 PM
The two winners from the National Round will go on to compete in the International Round, where they will compete with students of Alliance Française from around the world!
PHASE 3: International Round | Saturday, 27 November 2021
Prizes
National Round: The players ranked 1st, 2nd and 3rd at the National Round will be gifted a touch-screen tablet. Participants ranked from the 4th to the 15th positions will be offered a curated selection of books.
International Round: The three best scores will be offered a 15-day stay (sejour linguistique) at Alliance Française in Rouen, France with transport and half-board accommodation included.
How to participate?
Participation by registration ONLY. Register here: https://forms.gle/BBrR3rqg1AZxgiBQ9.
Limited seats available. Post registration, entry into the contest will be granted on the basis of first come, first serve. Please read the rules and regulations carefully before registering.
Rules and Regulations
You can sign up for the contest IF and ONLY IF
You are aged 16+
You are currently enrolled in AT LEAST a B1 Level class in Alliance Française de Pune
You have access to a stable internet connection
You have access to two devices – a SMARTPHONE and a COMPUTER – so that you can access the questions on ZOOM from your COMPUTER and answer the questions on KAHOOT from your SMARTPHONE.
You agree to keep your webcam on during the entire duration of the QUIZ that will be held online via ZOOM
Please download and read the COMPLETE set of RULES and REGULATIONS here: DEFI_INTER_ ALLIANCES RULES_REGULATIONS